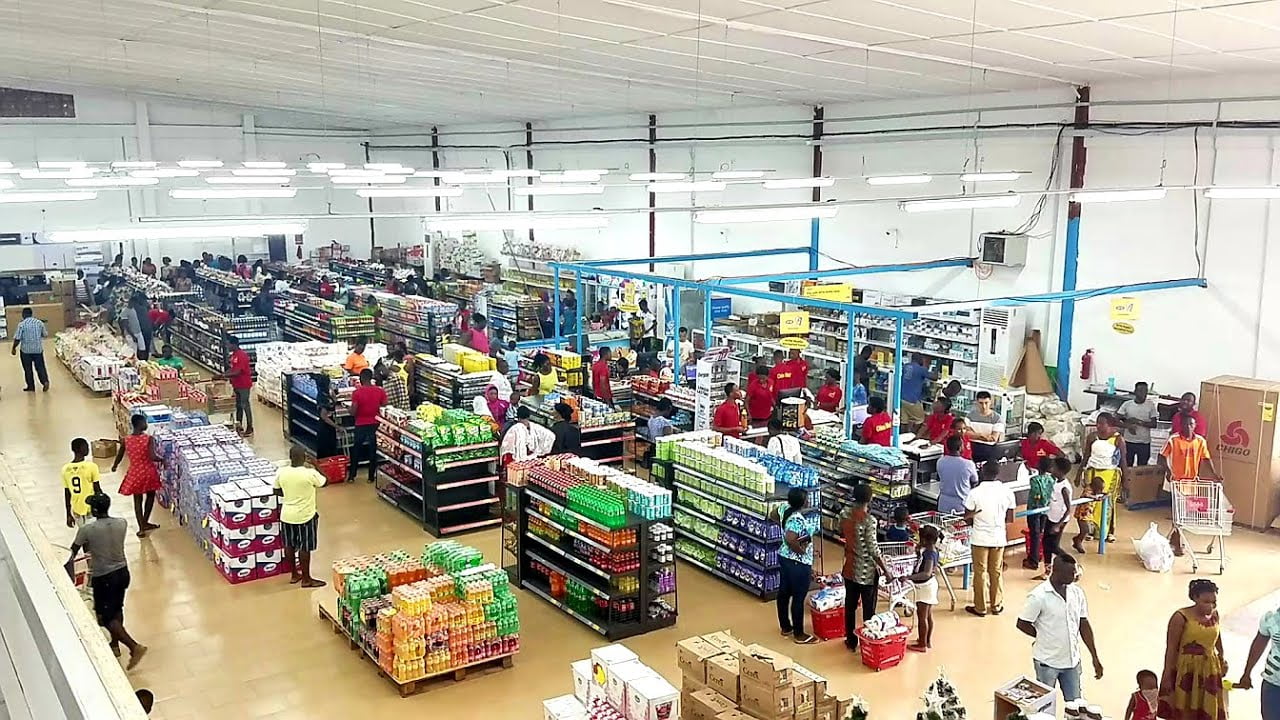 China Mall Ghana is one of the most popular shopping centres in Ghana, especially Accra the capital city. This mall has been competitive because of it affordable price as compared to other shopping centres. With a supply of diverse household items like electronics, clothing, shoes, and more, the shopping mall has over 40 stores spread across the country.
China Mall Ghana Online provides a supermarket that sells fresh produce, meat, dairy items, frozen goods, and other food items. The availability of such a variety of products and services at reasonable prices makes this Mall a go-to shopping destination for both locals and tourists.
The mall is spread across Accra and Kumasi, with branches in Ashaiman, Spintex, Kasoa, and Kumasi.
Top Locations
China Mall Ashaiman Branch and Products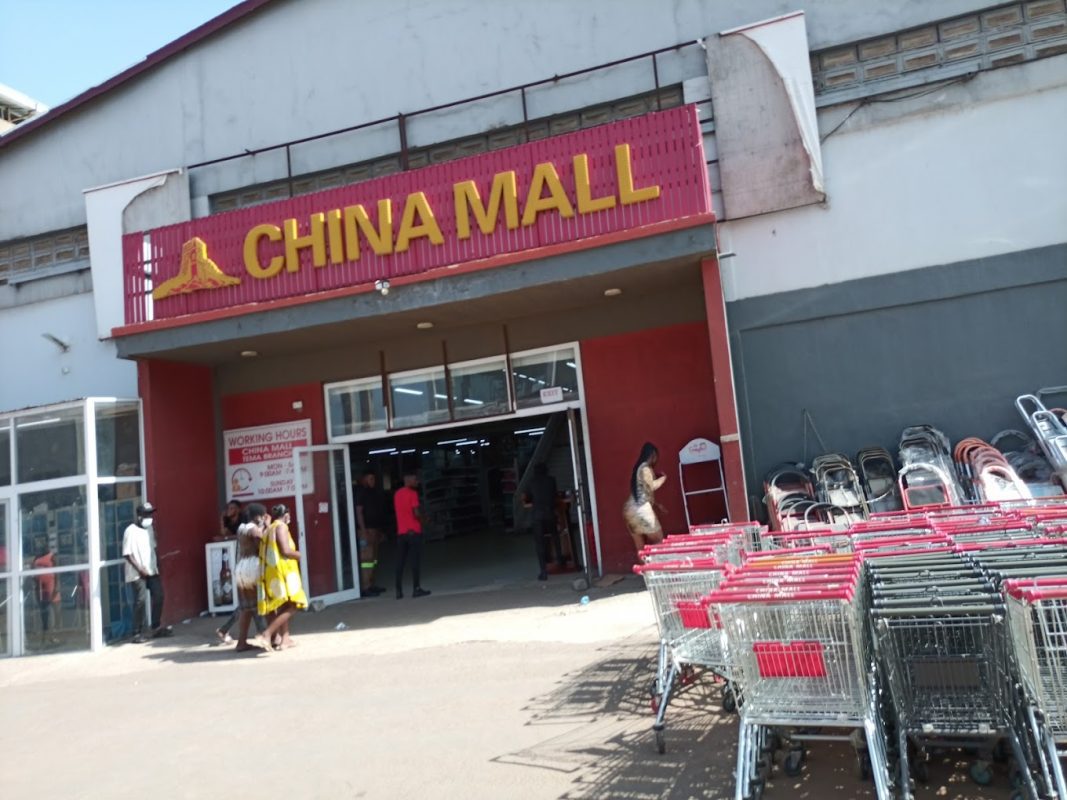 China Mall Ashaiman: An affordable shopping destination in Ghana offering a wide range of products at unbeatable prices, convenient location, and a thriving hub for local businesses. Explore this emerging mall for a budget-friendly and diverse shopping experience.
China Mall Ghana Online at Spintex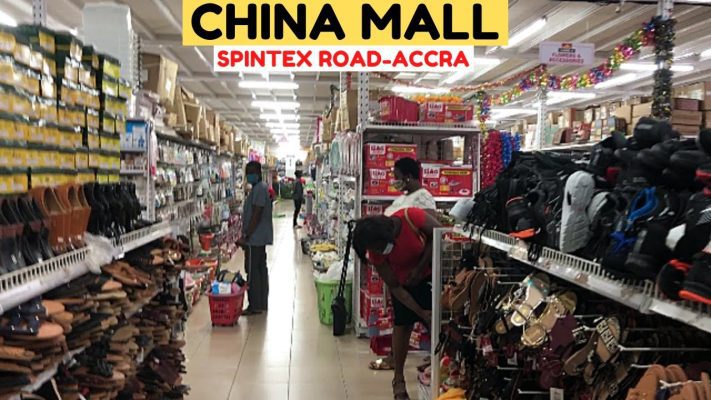 China Mall Spintex in Accra, Ghana, is a vibrant shopping center that caters to diverse needs with its extensive range of affordable products, convenient working hours, online shopping options, and strategic location. China Mall Spintex is located at 35 Spintex Road in Accra and offers a wide range of products at affordable prices.
China Mall Kasoa
China Mall Kasoa is one of the newest branches, located behind the West Hills Mall, and serves thousands of customers with a wide range of products.
Kumasi
China Mall Kumasi is located in Ahinsan, around the Atonsu Road, and is known for its affordable products.
Online Products Available
In this Mall, you may buy household products, gadgets, clothes, shoes, and other items. This mall also has various styles of furniture and home décor to buy, including ceramic vases, sculptures, pots, picture frames, mirrors, baskets, bedding, carpets, rugs, and fake flowers, as well as sofas, closets, table lamps, clocks, pillows, and more.
Electronics
Refrigerators, ceiling and floor fans, washing machines, television sets, gas cookers, rice cookers, blenders, electric kettles, LED lights and chandeliers, stabilizers, fridge guards, and other electronic household equipment are available.
Electronic appliances have become an essential part of modern-day living. From refrigerators to washing machines, these appliances have become integral to our daily routines.
Fan Prices: Ceiling Fans and Floor Fans
Ceiling and floor fans are an often-overlooked electronic appliance that is both energy-efficient and eco-friendly. These fans offer a range of functions, including remote control and adjustable speed, making them a perfect choice for anyone looking to reduce their energy expenditures and carbon impact. The prices of these fans as of April 2023 starts from 300 cedis to 500 cedis. Prices may change prior to the time of this publication.
LED Lights
LED lights and chandeliers are also essential electronic appliances that provide bright and long-lasting lighting solutions while also serving as decorative elements in your home. Stabilizers and fridge guards are important electronic equipment that helps to protect appliances from voltage fluctuations and power surges.
Electronic appliances have become an integral part of modern-day living. From refrigerators to washing machines, electronic appliances make our lives easier and more convenient. Whether you're looking for equipment that complements the style of your home or energy-efficient alternatives, electronic appliances have something for everyone.
Available drinks include wines, whiskies, Coke, mineral water, gin, brandy, rum, Pepsi, and more alcoholic and non-alcoholic options.
Without beverages, our social lives would be incomplete, and there are a variety of options to meet all tastes and preferences. Finding a suitable beverage is not difficult because they are widely available in stores and online.
Wine
Wine is widely regarded as a sophisticated drink, often consumed during social gatherings, romantic dinners, and other special occasions. With a range of options available, including red, white, and rose, wine is suitable for different occasions and pairings.
Whiskey
Another popular alcoholic beverage is whisky. Whisky which is a type of distilled alcoholic beverage is tasty and smooth texture or people interested, whisky is a popular beverage for many people, especially in the winter. There are different flavors of whiskey, including Scotch, Irish, Bourbon, and Japanese. Each type has its unique flavor profile, depending on the distillation process, aging, and ingredients used.
Non- Alchoholic Beaverages
For non-alcoholic beverages, there are different options available. Mineral water is a popular choice, particularly for those who prefer a healthier alternative to sugary drinks. Calcium, magnesium, and potassium are natural minerals found in mineral water that are crucial for optimum health. Also, it's a fantastic way to satisfy your thirst, especially on a hot day. Then there the almighty is Coca-Cola, which is a carbonated soft drink produced by the Coca-Cola Company. Coca-Cola the most widely recognized and consumed beverages globally, with its sweet, fizzy taste and refreshing flavor. Other popular soft drinks include Pepsi, Sprite, and Fanta, among others.
Gin
Gin is another popular alcoholic beverage, particularly for those who prefer a refreshing and aromatic drink. Its peculiar flavor and aroma come from juniper berries and other botanicals, which are used in its production. Gin is often mixed with tonic water and a slice of lime or cucumber to create the classic gin and tonic cocktail.
Brandy
Brandy which is a distilled wine made from aged in oak barrels, giving it a rich, smooth flavor is often consumed as a digestif after a meal or used as a base for cocktails. Rum is another popular alcoholic beverage made from sugarcane or molasses. With its sweet flavor and rich aroma, it's often used in cocktails such as the Mojito and Daiquiri.
Alchoholic & Beaverages from wines and whiskies to Coca-Cola and mineral water, there is a beverage to suit every taste and preference. Whether you're looking for a sophisticated drink to celebrate a special occasion or a refreshing thirst-quencher on a hot day, the options are endless. With a range of options available in stores and online, finding your favorite beverage has never been easier.
Toiletries
Sanitary ware, including sinks, toilet bowls, lavatories, washbasins, bathtubs, soap holders/trays, toilet paper holders, and pedestals, can be purchased.
From sinks to soap holders, every detail plays a part in creating a functional and aesthetically pleasing space.
Luckily, finding these items is not difficult. Sanitary ware, which includes sinks, toilet bowls, lavatories, washbasins, bathtubs, soap holders/trays, toilet paper holders, and pedestals, is one of the most essential toiletries. These items are not only essential for maintaining hygiene but also serve as important decorative elements in any bathroom.
When choosing sanitary ware, it's important to consider factors such as size, style, and material. For instance, a tiny bathroom might need a modest basin or toilet, whereas a bigger room would have room for a standalone bathtub. Similarly, the material of the sanitary ware can affect its durability and overall look. Options range from traditional porcelain to modern acrylic or stainless steel.
In addition to sanitary ware, other toiletries that are essential for every bathroom include towels, bath mats, and shower curtains. These items not only add comfort and style but also serve practical purposes such as keeping floors dry and providing a soft surface for stepping out of the shower.
You may create a space that is both functional and beautiful by investing in high-quality toiletries, which will make using the restroom a pleasure each time.
Car accessories
Car accessories like blind spot mirrors, phone mounts, portable power banks, stinger USB chargers, hydraulic jacks, car tool sets, and Bluetooth transmitters are for sale.
Car accessories have become a significant part of a driver's experience on the road. Along with being useful, these accessories also make your automobile safer and run better.
Blind spot mirrors are a must-have for any driver. By improving drivers' awareness of their surroundings, these mirrors contribute to a reduction in the likelihood of accidents. They are particularly helpful when changing lanes, merging on the highway, or reversing. They come in different sizes and shapes to suit any car model.
Another useful car accessory is the phone mount. With the increasing need to stay connected while driving, phone mounts have become an essential accessory for drivers. These mounts make it simpler to navigate, make calls, or play music while driving by keeping your phone in a safe yet easily accessible location.
They come in various designs, including dashboard mounts, windshield mounts, and air vent mounts.
Portable power banks are another popular car accessory. These devices are particularly useful for long trips or in case of emergencies. Some power banks come with multiple ports, allowing you to charge several devices simultaneously.
Stinger USB chargers are another useful accessory for drivers. These chargers offer a quick and effective way to charge your gadgets because they are made to plug into your car's cigarette lighter. They come in different sizes and designs, making them suitable for any car model.
Hydraulic jacks are another important accessory that can help you change a tire or perform other maintenance tasks. These jacks are easy to use and come in different sizes, making them suitable for any car model.
Car tool sets are also essential for any driver. These sets include a range of tools like screwdrivers, pliers, wrenches, and sockets, making it easy to perform minor repairs or maintenance tasks on your car.
Finally, Bluetooth transmitters are another popular car accessory. They help you to connect your phone to your car's audio system, allowing you to stream music, make calls, or listen to podcasts wirelessly.
In a nutshell, car accessories are an essential part of a driver's experience on the road. They not only enhance the safety and functionality of your car but also provide convenience and comfort. From blind spot mirrors to phone mounts, portable power banks to hydraulic jacks, car tool sets to Bluetooth transmitters, there is a range of accessories available to suit any driver's needs.
Bags
There are also duffel bags, waist bags, lunch bags, laptop bags, gym bags, and travel bags.
Bags are an essential item that we use in our daily lives. From carrying our lunch to work to traveling around the world, bags make our lives easier and more convenient.
Duffel bags are ideal for traveling or going to the gym.
Waist bags, also known as fanny packs, have also become popular in recent years. These bags are worn around the waist and are ideal for carrying small items like keys, wallets, and cell phones. They are a popular choice for people who want to keep their hands free while traveling or walking around.
Lunch bags are another popular type of bag. These bags are insulated to keep food fresh and can be used to carry lunch to work, school, or on a picnic. These bags are designed to protect laptops from scratches and damage and often come with extra pockets for carrying other items like chargers and headphones.
Gym bags are designed for carrying sports equipment and workout clothes.
Finally, travel bags are designed for people who travel frequently. These bags are usually bigger and more durable than other types of bags, in addition to having features like wheels and retractable handles for convenience.
Bags are a crucial part of our daily lives, making it easier for us to carry our belongings and travel from one place to another. Whether you're looking for a duffel bag, waist bag, lunch bag, laptop bag, gym bag, or travel bag, there is something for everyone. With a range of styles and designs available, it's easy to find a bag that meets your needs and matches your personal style.
Prices of Goods
The prices are reasonable, with some items costing as low as GHS 20-50. With GHS 50 to GHS 1,000, you can shop and be very satisfied with what you get. Now considered as one of the greatest inexpensive shopping centers in Ghana, this mall offers a variety of goods at moderate costs. You may go to any of their stores, whether you're in Accra or Kumasi, and discover anything that meets your demands.
Glossary:
West Hills: a neighborhood in Accra where one of the branches of this Mall is located.
West Hills Mall: a shopping center located in the West Hills neighborhood of Accra.
Ghana Revenue Authority: the government agency responsible for tax collection in Ghana which had a case against this mall.
Accra Mall: another shopping center located in Accra.
Kamala Harris: the current Vice President of the United States who visited this mall in march 2023.
Joseph Annan: a former Accra Area Enforcement Manager at the Ghana Revenue Authority who was involved in a controversy related to this Mall's compliance with tax laws. Palace Mall: a shopping center located in Accra.
Greater Accra: a region in southern Ghana where Accra, the capital city, is located.
West Africa: a region of Africa that includes countries such as Ghana, Nigeria, Senegal, and Ivory Coast and particulary where this mall is located.
China Mall Shopping Centre: another name for this Mall.
Ghana News Agency: a state-run news agency in Ghana.
Mr. Annan: a reference to Joseph Annan, the former Accra Area Enforcement Manager at the Ghana Revenue Authority in relation to the tax controversy.
Accra Central: a neighborhood in central Accra.
Accra Area Enforcement Manager: a government official responsible for enforcing tax laws in the Accra area.
Ghana Police Service: the national police service of Ghana.
Sneda Mall: a shopping center located in Accra. In relation to this mall, they were also tied up in a case against this Mall Ghana.
Citi News: a Ghanaian news organization which broadcast the information of this mall.
Sanitary ware: items used in bathrooms, such as sinks, toilets, and bathtubs which is very cheap at the mall.
United States: a country located in North America and who's vice president visited this mall.
China: a country located in East Asia.
Commissioner General's Seal: the official seal of the Ghana Revenue Authority's Commissioner General.
Junction Mall: a shopping center located in Accra.
Items: general term for products sold.
Mall: a shopping center.
Joy Business: a Ghanaian business news organization.
Wide range: A variety of products and/or services offered by this Mall.
VAT collectors: Officials responsible for collecting Value-Added Tax (VAT) at this Mall.
China Mall branches: The various locations across Ghana, including Accra, Kumasi, Ashaiman, Spintex, Kasoa, and others.
Area enforcement manager: A GRA official responsible for enforcing tax compliance in a specific geographic area, including this Mall.
Enforcement team: A group of GRA officials tasked with ensuring tax compliance at this Mall and other locations.
Videos: Visual recordings of this Mall and its products, services, and activities.
Revenue collection: The process of collecting taxes, including VAT revenue, at this Mall.
VAT revenue: The amount of money collected from VAT at this Mall.
Shopping centre: A large retail complex where multiple shops and businesses operate, such as this Mall.
President: The head of state of a country, such as the President of Ghana.
Mr. Joseph Annan: A former Ghana Revenue Authority (GRA) official who played a role in enforcing tax compliance at the Mall.
General news: News coverage about this Mall and other topics not specific to the mall.
Compliance: Adherence to tax laws and regulations at the Mall. Shopping mall:
A large retail complex with multiple shops and businesses operating, similar to a shopping centre.
China Mall shops: Individual stores located within the Mall that sell various products and services.
Household items: Products and items related to the home, such as furniture, appliances, and decor, sold.
Live transactions: Real-time financial transactions conducted at this Mall.
GRA officials: Officials from the Ghana Revenue Authority responsible for enforcing tax compliance.
Taxpayers: Individuals and businesses who are responsible for paying taxes, including VAT.
South Africa: A country in southern Africa, not related to this Mall or its operations.
Shop: A retail store or outlet within a shopping centre or mall.
Great place: A descriptive term used to describe this Mall and its offerings. Goods: Products and items sold at this mall.