Ghana: A Country Full of Beauty and Hospitality

Overview
Ghana is a stunning nation with a vibrant culture, lovely beaches, and an array of wildlife. It is renowned for providing great hospitality to tourists from throughout the world.
Since President Akufo-Addo's initiative to promote tourism in Ghana, several foreign and famous people including Prince Charles and Duchess of Cornwall, Camilla Parker Bowles, French President Emmanuel Macron, American rapper and entrepreneur Jay-Z, American actor and filmmaker Idris Elba, Hollywood actress Nicole Ari Parker, British actor Michaela Coel, American comedian and talk show host Steve Harvey and many of these stars have visited the country.
Most Important Things to Consider before Travelling to Ghana
Checkout some items to put on your travel to-do list before going to Ghana:
Passport and Visa
Passport and Visa: Verify that you have a current passport and, if necessary, a visa. Some nations including Americans, can receive a visa upon arrival at the Ghanaian airport, it is very important to double-check with the Ghanaian embassy or consulate in your home country.
Vaccinations
Vaccinations: It is advisable to receive immunizations for diseases including typhoid, hepatitis A, and yellow fever before traveling to Ghana. At least 4-6 weeks prior to your trip, you should see a travel clinic or your doctor.
Travel Insurance
Travel Insurance: Consider purchasing travel insurance to cover unexpected events like medical emergencies, flight cancellations, or lost luggage.
Currency
Currency: The currency in Ghana is the Ghanaian cedi (GHS). You can exchange currency at the airport, but it's also recommended to bring some cash with you for taxis and other small expenses.
Climate
Climate: Ghana is a tropical country, so pack light, breathable clothing, sunscreen, and insect repellent. If it's raining, you might also want to bring an umbrella or raincoat (April to July and September to November).
Power Adapter
Power Adapter: You will want a power adapter to charge your devices if you are coming from a nation with a different voltage than Ghana, which has a voltage range of 220-240V.
Local Customs
Local Customs: Learn about the local customs and etiquette before you go, such as the importance of greetings and handshakes, dress codes, and cultural norms.
Travel Itinerary
Travel Itinerary: Plan your trip well in advance, making plans for any tours or other activities you wish to take part in. Moreover, do some research on the regions you'll be visiting to have a sense of what to expect and any potential safety issues.
These are just a few things to consider in your travel checklist to Ghana. Always do your research and make plans in advance to ensure a safe and enjoyable trip.
Other important things you should still consider before grabbing your luggage and flying to Ghana isalso to checkout The Ghana Consulate DC website. The Ghana Consulate DC can assist with this. We'll delve into the services offered by the Ghana Consulate DC in this blog article and discuss how they can make traveling to Ghana simple and hassle-free. We will also later explore some of the most attractive places to visit in Ghana.
The consulate is committed to promoting global equality and ensuring a stress-free journey for visitors to Ghana.
Specific Bilateral Agreements
The Ghana Embassy in Washington DC is responsible for enforcing and executing specific bilateral agreements between Ghana and the United States. These agreements cover various topics, such as trade, investments, and security. The consulate also works towards advancing Ghana's interests in the US and promoting better relations between the two nations.
Collaboration with Regional Organizations
The Economic Community of West African States (ECOWAS) and the African Union both include Ghana as a member. These organizations promote regional economic integration and ensure Ghana's access to the unrestricted movement of people, goods, and services throughout the region. The Ghana Consulate DC collaborates closely with these organizations.
Assistance with Immigration Procedures
The Ghana Consulate DC provides information on Direct Airside Transit (DAT), a process that allows travelers to transit through a country without going through customs or immigration. They offer guidance on how to apply for a DAT visa and the necessary paperwork required to ensure a hassle-free journey. The consulate also has a dedicated customer service team that assists tourists and Ghanaians residing in the country with various issues, including passport renewals, visa applications, and travel guidance.
Press Credentials for Foreign Journalists
Foreign journalists can obtain press credentials from the Ghana Consulate DC and report on the happenings in Ghana. The consulate ensures that foreign journalists have the assistance and documentation they require to perform their duties in Ghana.
Finding Accommodation in Ghana – Some Top Hotels
Tourists can choose from a variety of lodging alternatives in Ghana, from luxurious hotels and resorts to hostels that are affordable. Here are some of the top accommodation options in Ghana:
Movenpick Ambassador Hotel
Movenpick Ambassador Hotel: This luxurious hotel is located in Accra and offers beautiful rooms, a rooftop pool, a fitness center, and several restaurants and bars.
Labadi Beach Hotel
Labadi Beach Hotel: This beachfront hotel is also located in Accra and offers a range of accommodation options, including rooms, suites, and chalets. In addition, the hotel has a spa, a variety of restaurants, and a pool.
Kempinski Hotel Gold Coast City
Kempinski Hotel Gold Coast City: Another luxury hotel in Accra, the Kempinski Hotel Gold Coast City features beautiful rooms, a spa, a fitness center, and several dining options.
Royal Senchi Hotel and Resort
Royal Senchi Hotel and Resort: Located in Akosombo, the Royal Senchi Hotel and Resort offers stunning views of the Volta River and features beautiful rooms, a spa, a pool, and several restaurants.
Aqua Safari Resort
Aqua Safari Resort: This resort is also located in Akosombo and offers a range of accommodation options, including rooms, suites, and chalets. The resort also features a spa, a swimming pool, and a number of dining options.
Busua Beach Resort
Busua Beach Resort: Located in Busua, the Busua Beach Resort offers beautiful beachfront rooms, a pool, and several dining options. The resort is also located close to several tourist attractions, including the Cape Coast Castle and the Kakum National Park.
Coconut Grove Beach Resort
Coconut Grove Beach Resort offers breathtaking views of the Atlantic Ocean and has lovely suites, a pool, a spa, and a number of eating options. It is situated in Elmina.
These are just a few of the top accommodation options in Ghana. There are other additional excellent hotels and resorts across the country, depending on your preferences and price range.
Top Tourist Attractions in Ghana
Ghana has a diverse range of tourist attractions, from vibrant cities to cultural landmarks, wildlife reserves, and breathtaking landscapes. Below are a handful of Ghana's most popular tourist attractions:
UNESCO World Heritage Site Cape Coast Castle
The UNESCO World Heritage Site Cape Coast Castle is a must-see for history buffs. Enslaved Africans were once kept within the castle before being transferred to the Americas.
Kakum National Park
Kakum National Park: More than 250 different bird species can be found in Kakum National Park, a rainforest reserve. The park's renowned canopy walkway, which gives breathtaking vistas of the rainforest, is also open to visitors.
Mole National Park
Mole National Park: This park is the perfect place for wildlife enthusiasts. Visitors can spot elephants, baboons, warthogs, and over 90 other mammal species.
Lake Volta
Lake Volta: This man-made lake is the largest in Ghana and offers plenty of water activities, including fishing, swimming, and boat tours.
Kwame Nkrumah Memorial Park
Kwame Nkrumah Memorial Park: This memorial park remembers Ghana's first president and offers a fascinating peek into the country's history and struggle for independence.
Elmina Castle
Elmina Castle, a UNESCO World Heritage Site that was also a center for slave trade, is one of the earliest European buildings in Africa.
Kokrobite Beach
Kokrobite Beach: This beautiful beach is a popular destination for locals and tourists alike, offering crystal clear waters and plenty of beachside bars and restaurants.
Aburi Botanical Garden
The Aburi Botanical Gardens are a calm retreat away from the bustle of daily life and are home to a wide variety of exotic plant species.
Boabeng-Fiema Monkey Sanctuary
Boabeng-Fiema Monkey Sanctuary: This sanctuary is home to over 500 monkeys, including the endangered Diana monkey and the black and white colobus monkey.
Ghana's capital, Accra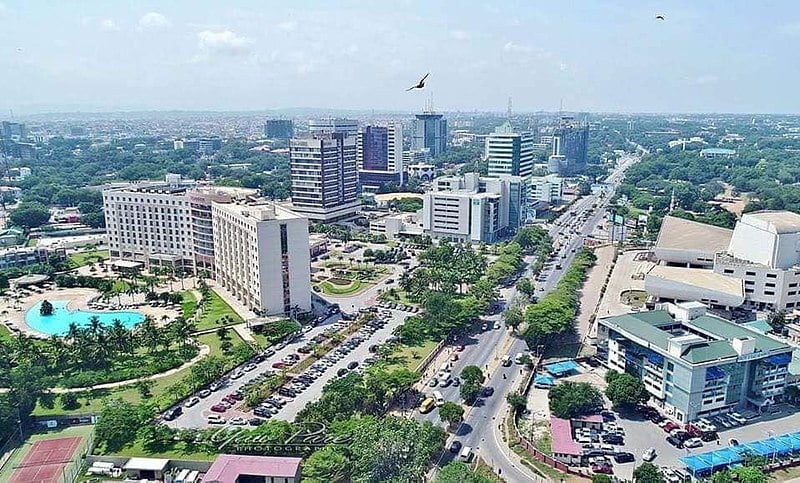 Ghana's capital, Accra, is a vibrant mix of traditional and modern culture with a huge selection of eateries, markets, and museums.
Top Restaurants in Ghana to Checkout
The traditional cuisine of Ghana is a fascinating fusion of indigenous, European, and West African ingredients, as any traveler to the country will find out.
This results in a unique culinary experience that you'll want to investigate. Ghana is home to many top-notch eateries where you may enjoy both traditional and modern Ghanaian cuisine, from pricy fine dining establishments to laid-back street food carts. Here are some top restaurants to visit in Ghana:
Buka Restaurant
Buka Restaurant: This is a popular restaurant chain with locations in Accra and beyond. Buka Restaurant serves authentic Ghanaian food in a relaxed and friendly atmosphere. You can try dishes such as jollof rice, banku, and fufu, served with a variety of stews and soups. The restaurant serves international cuisine as well as vegetarian and vegan options.
Azmera Restaurant
Azmera Restaurant: This restaurant is located in Osu, Accra, and serves traditional Ghanaian dishes with a modern twist. The menu features a variety of seafood, grilled meats, and vegetarian dishes made with locally sourced ingredients. You can eat and listen to live music at the same time.
Coco Lounge
Coco Lounge: This restaurant in fashionable, wealthy Accra offers a high-end dining experience. The menu has a selection of seafood, grilled meats, and vegetarian dishes made with ingredients acquired locally. You can eat while watching a live musical performance.
The Gold Coast Restaurant
The Gold Coast Restaurant: This is a popular restaurant located in the Labone neighborhood of Accra. The restaurant offers a variety of Ghanaian and continental meals, as well as grilled meats, fish, and vegetarian options. The restaurant also features a bar with a variety of domestic and foreign beverages.
Chez Clarisse
Chez Clarisse: This is a casual and cozy restaurant in the Osu neighborhood of Accra, serving traditional Ivorian dishes. The restaurant is popular for its attiéké, a side dish made from cassava that is similar to couscous. Together with vegetarian options, the menu also features grilled fish and meats.
Sky Bar
Sky Bar: The suburb of Airport City in Accra is home to this rooftop bar and restaurant, which offers panoramic views of the city. The menu features international cuisine, including grilled meats and seafood, pizza, and burgers. Sky Bar also has an extensive wine list and serves cocktails and other drinks.
Mama Mia Restaurant
Mama Mia Restaurant: This is a popular Italian restaurant located in the East Legon neighborhood of Accra. Pizza, spaghetti, and seafood are just a few of the Italian specialties that are offered at the restaurant. The restaurant has a bar as well, where a variety of libations are offered, including Italian wines.
Promotion of Social Justice and Sustainable Development
Apart from the above services, the Ghana Consulate DC also promotes social justice and sustainable development in Ghana. To address issues including poverty, gender inequality, access to healthcare, and education, they collaborate with NGOs and other groups. The consulate's main objective is to promote innovation and entrepreneurship in Ghana, particularly among young people and women.
Fostering International Partnerships and Collaborations
The consulate plays a crucial role in fostering international partnerships and collaborations that promote economic growth and development in Ghana. Collaboration with businesses and governments in the US and other nations is necessary to create trade and investment possibilities that support job creation and long-term economic growth in Ghana.
Final Thoughts
In summary, the Ghana Consulate DC's initiatives aim to fight global injustices and advance sustainable development in Ghana. Diplomatic missions play a crucial role in resolving some of the world's most pressing issues. Collaboration and partnerships can make it easier to create a more just and equitable society where everyone has the opportunity to grow and reach their full potential. If you're planning a trip to Ghana from Washington DC, rest assured that the Ghana Consulate DC can assist you every step of the way.
Glossary:
Specific bilateral agreements: agreements made between two countries, dealing with issues such as trade or foreign policy
Regional economic communities: organizations made up of countries in a particular region that work together to improve economic conditions
Direct airside transit: the process of passing through an airport's international transit area without clearing border control
Foreign correspondents interested: journalists who report on events in a country they are not a citizen of
Acquire press accreditation: obtaining official permission to work as a journalist in a foreign country
Washington DC hosted: event or organization that takes place in the capital city of the United States
Combating global inequalities: the effort to address disparities in wealth, power, and resources between countries and regions
Bonaire Sint Eustatius: two islands in the Caribbean Sea that are part of the Netherlands
McDonald Islands Holy: a remote Australian territory consisting of two uninhabited islands in the southern Indian Ocean
Iraq Ireland Isle: reference to three countries: Iraq, Ireland, and the Isle of Man
Miquelon Saint Vincent: two islands in the North Atlantic Ocean that are part of France
Customer service team: a group of individuals responsible for handling customer inquiries and complaints
Birth naturalization adoption: methods of becoming a citizen of a country, including being born there, going through a naturalization process, or being adopted by citizens of that country
Adding passport pages: the process of adding more pages to a passport that is running out of space for visa stamps
In-person appointment online: scheduling an appointment to meet with someone in person, using an online platform
Rights reserved EOG: indication that the rights to a particular work or product belong to a specific organization or person, in this case the EOG (Enterprise Oil Group)
York NY email: reference to the city of New York, in the state of New York, and an email address associated with that location
Processing fee evidence: documentation required to prove that a processing fee has been paid
Support identity originals: the requirement to provide original forms of identification to support a particular claim or application
Tobago Uganda holders: individuals who hold passports issued by the countries of Tobago (part of Trinidad and Tobago) and Uganda
Pickup note mail-in: instructions provided for picking up a package or item that has been mailed to a particular location
Procedures address embassy: guidelines or instructions for dealing with a particular issue, specifically in relation to an embassy
Duly authenticated documents: official documents that have been verified and approved by the appropriate authorities
Ghana immigration law: laws governing immigration to Ghana, including entry requirements and restrictions
Ghana diplomatic mission: a group of diplomats representing Ghana in a foreign country
Application fees online: fees associated with submitting an application, paid through an online platform
Application process/apply online: the process of submitting an application, typically completed online
Previous Ghanaian passport: a passport issued by the government of Ghana prior to the current one being used
Visa requirements section: information provided about the requirements for obtaining a visa, typically included in a particular section of a website or application
Travel document establishing: a form of identification that establishes an individual's ability to travel, such as a passport or visa
Universally accepted travel: a document or form of identification that is accepted for travel purposes in most countries around the world
Visa application fees – Fees charged by a country's consulate or embassy for processing a visa application. These fees vary depending on the type of visa, length of stay, and purpose of travel.
Processing fee – A fee charged by a government agency or private company for processing an application, document, or transaction. In the context of visa applications, a processing fee is charged by the consulate or embassy to cover the costs associated with processing the application.
Applicants – Individuals who submit an application for a visa or other form of legal permission to enter or stay in a country. Visa applicants are typically required to meet certain eligibility criteria and provide supporting documentation to be considered for approval.
Consulate – A diplomatic office or mission of a country located in another country, responsible for providing consular services to its citizens and processing visa applications from foreign nationals.
Embassy – The diplomatic office or mission of a country located in another country's capital city, responsible for representing the interests of the home country and providing consular services to its citizens. Embassies also process visa applications from foreign nationals.
Eligibility criteria – The requirements that must be met in order to be considered for a visa or other form of legal permission to enter or stay in a country. These requirements may vary and may take into account factors like age, education, work experience, financial capability, and criminal past depending on the type of visa and the planned use of the trip.
Supporting documentation – Documents and evidence submitted along with a visa application to support the applicant's eligibility and purpose of travel. This may include items such as a passport, travel itinerary, proof of financial resources, and letters of invitation from a host organization or individual.