Cleaner Stakes GHc2 Lotto Bet, Wins GHc126,000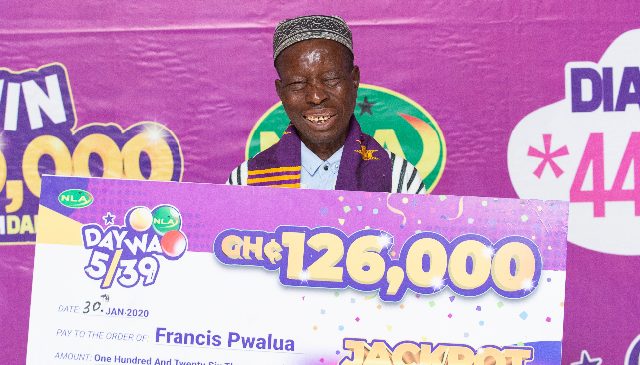 Francis Pwualua's life took an unexpected turn when the humble cleaner, residing in Nayania, a suburb of Navrongo in the Upper East region of Ghana, became the fortunate winner of a life-changing sum of GHc126,000. Pwualua's remarkable achievement came about through a mere GHc2 bet in the National Lottery Authority's (NLA) newly introduced game, Daywa 5/39, which had been launched on November 26, 2019.
The fateful day of Friday, January 17, 2020, became etched in Pwualua's memory as his selected numbers—15, 18, 17, 20, and 16—miraculously aligned with the winning combination drawn during the NLA's highly anticipated event at Brennan Hall, precisely at 7 pm. This extraordinary win not only brought him immense joy but also earned him the prestigious title of the inaugural champion of the newly introduced Daywa 5/39 game. Throughout a period of seven weeks, the jackpot prize had progressively grown from its minimum amount of GHc100,000 to an awe-inspiring GHc126,000, captivating the hopes and aspirations of tens of thousands of Ghanaians who eagerly tried their luck.
For Francis Pwualua, this unexpected windfall proved to be a turning point in his life. As news of his astonishing victory spread, he became a symbol of hope and inspiration for individuals from all walks of life. Pwualua's story served as a reminder that dreams can materialize through the most unlikely avenues, reminding Ghanaians that even with a small bet, the potential for life-changing success exists within the NLA's diverse array of lottery games.
The significance of Pwualua's win extended beyond his personal fortune. His triumph instilled a renewed sense of enthusiasm among Ghanaians, sparking a surge in lottery participation as individuals sought to emulate his success. The NLA, recognizing the impact of Pwualua's achievement, celebrated his win as a testament to the life-altering opportunities provided by their games. Pwualua's story became a beacon of hope, encouraging others to dream big and take chances, knowing that luck can shine upon anyone at any given moment.
As Pwualua's life took a remarkable turn, the impact of his win rippled throughout his community and beyond. From Nayania to the farthest corners of the country, his success story inspired countless individuals to believe in the transformative power of the lottery, offering a glimmer of hope and the possibility of a brighter future.