Kpando Teacher Wins GHS 920,500 787-NLA Cash Prize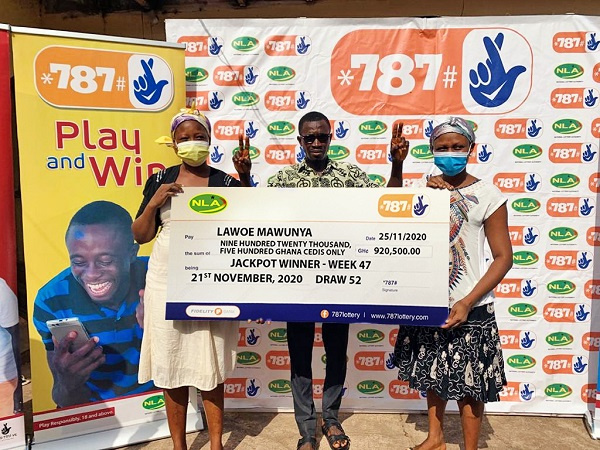 In a remarkable achievement, Lawoe Mawunya, a teacher and farmer from Kpando, has emerged as the winner of the GHS 920,500 cash prize in the 787-NLA jackpot. This win marks the 47th recorded jackpot winner in the history of the 787-NLA, making Lawoe the biggest jackpot prize winner to date.
Lawoe Mawunya received his cash prize of GHS 920,500 with tears of joy, expressing his intention to invest a significant portion of the money into his farming projects and explore other available avenues. The surprise presentation took place at his home on Saturday, November 21, 2020, during Week 47, Draw 52.
Richard Akoto Bamfo, the Head of Customer Experience at 787-NLA, encouraged the public to seize the opportunity to participate in the *787# draw, which offers a new jackpot value of GHS 100,000 on Saturday, November 28, 2020. The draw provides an excellent chance for everyone to try their luck and potentially win a significant cash prize.
In addition to the Saturday regular 787 lottery draw, there are special Tuesday and Thursday draws. The Tuesday draw rewards 50 players with GHS 200 each, while the Thursday draw awards GHS 1,000 to six players. All tickets purchased for the special draws automatically qualify for the big GHS 100,000 Jackpot draw on Saturday, November 28, 2020.
Lawoe's win adds to the list of significant *787# jackpot breaks in Ghana, including amounts of GHS 798,000, GHS 242,000, GHS 208,500, GHS 162,950, GHS 157,500, GHS 105,000, and GHS 70,000.
To participate in any of the draws, simply dial *787# on your mobile phone, select "play now," enter your participation, and confirm your mobile money pin for payment. Each ticket costs GHS 5, and your phone number serves as your entry into the draw.