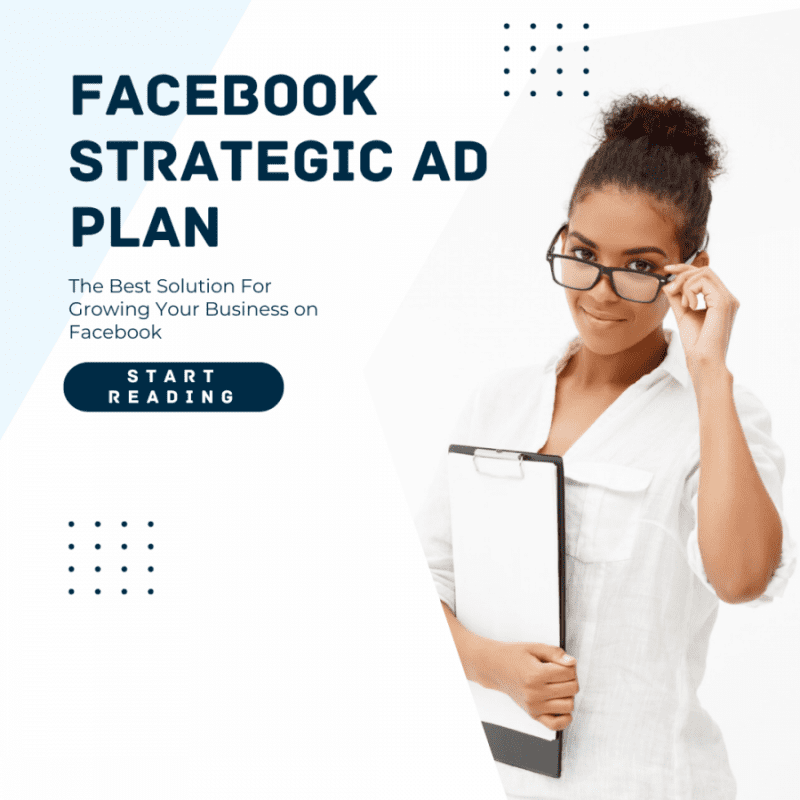 Today's social media platforms are very powerful marketing tools to reach new customers and clients for startup businesses. They are very effective to grow businesses from a beginner's level to an advanced one. You can get a lot of followers to churn profit or conversion if you have a concise and detailed Facebook Ad Strategic Plan.
Most people find it very difficult to identify the right platform with the right strategies or even don't know the right time or where to start.
This post discusses and guides on the right Facebook Ad Strategy used by the top professionals to reach the right people and also to build engagements and growth for any business online.
What This Post Cover
The Importance of a Facebook Ad Strategic Plan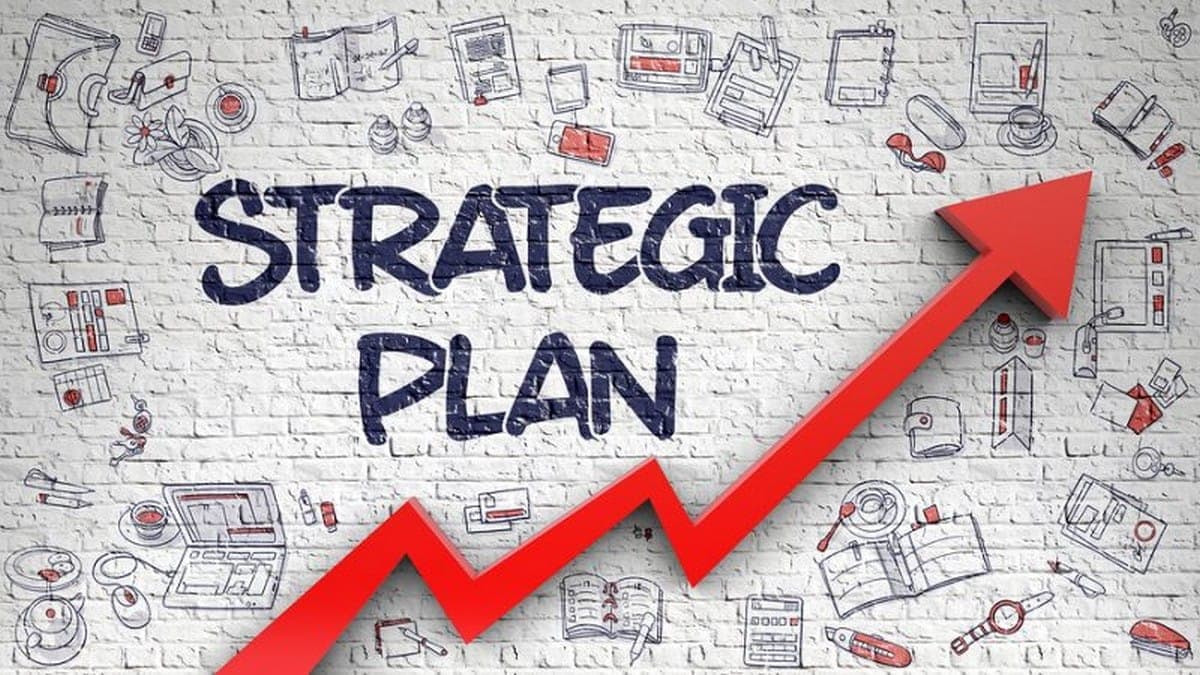 Facebook boasts over 3 billion active media users worldwide on its platform. This is very significant because it captures over 37% of the world's population.
This poses huge opportunities and exposes many audiences in different geographies and categories from different cultural backgrounds to reach out to.
However, if you're not strategic about your social media presence, you could be missing out on valuable opportunities.
In order to reach out to the right audience in this vast array of potential customers, you need to be strategic.
You need to build a social media presence and always create the type of engagement that will always connect and build a strong relationship between your brand and your target audience.
This can be only achieved through a well-developed and tested strategic plan.
We have carefully built and prepared a top-notch Facebook Post Strategic Plan to guide and control every single step along the way. Before we delve into this strategic plan, let us understand its importance.
A well-structured Facebook Ad Strategic Plan will help anyone to:
Identify their goals and objectives in using Facebook.
It will also help them to select the right platform for their business and also the right channel audience.
It will also determine what type of content to post to its targeted audience.
It also helps to create a content calendar and devise a plan to automatically publish posts.
It also helps to measure your success because that's the end goal.
By creating a Facebook post strategic plan, you can ensure that your social media efforts are aligned with your business goals and that you're making the most out of this powerful marketing tool.
How to Create the Ad Strategic Plan
The following steps will guide anyone to create and start harnessing the power of a strategic marketing plan.
1. Define Your Goals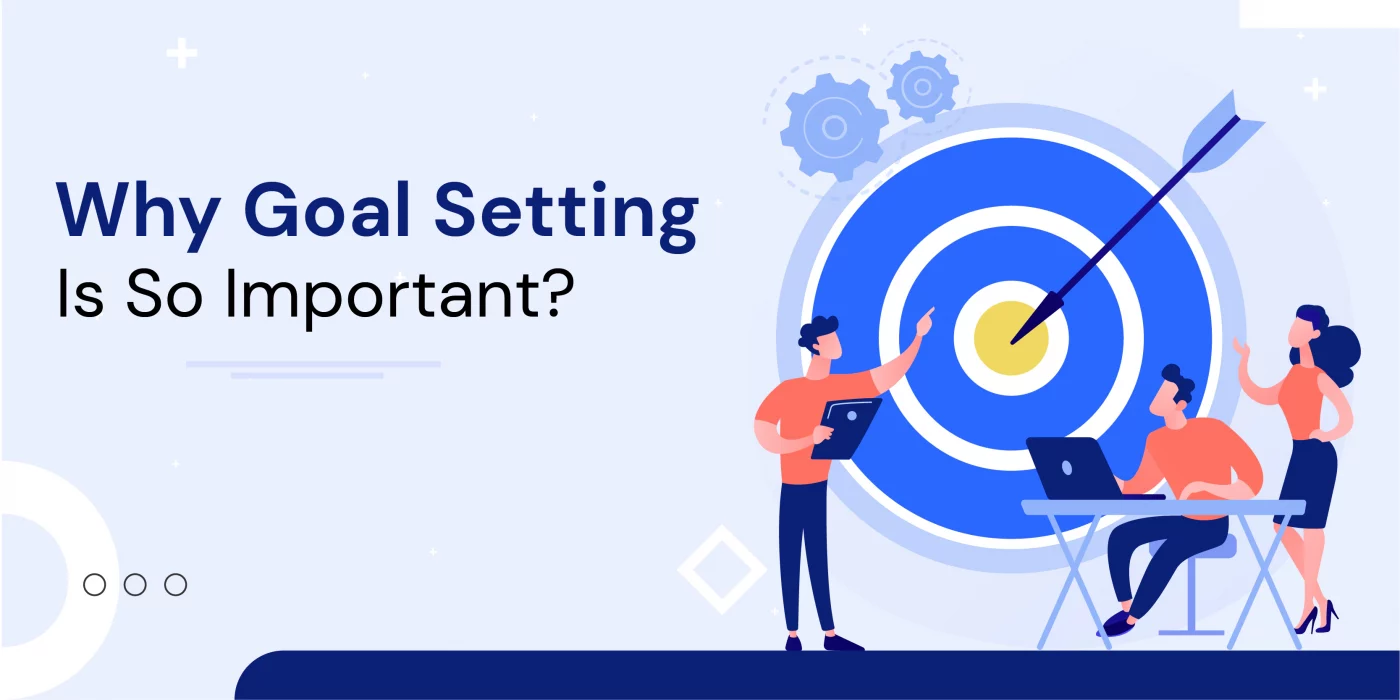 Defining your goals should be the first step in designing your strategic plan, you need to define what you want to achieve with your Facebook posts or ads. There are three (3) types of Goals to target. Each with it own outcome:
Driving Traffic to a website or Landing Page.
Increasing your brand awareness.
Boosting Sales of a particular product or service.
You need to select any of the above options and make sure you focus on its trajectory until a result is made. The result here can be positive or negative.
The most important thing is, no matter what the outcome of the result, the objective of defining your strategic goal is to identify the challenges after the result and define corrective measures to outwit the challenges.
The following are examples of the above goals and how to define, measure, and improve each.
Goal No.1: When Driving Traffic to a Website or Landing Page: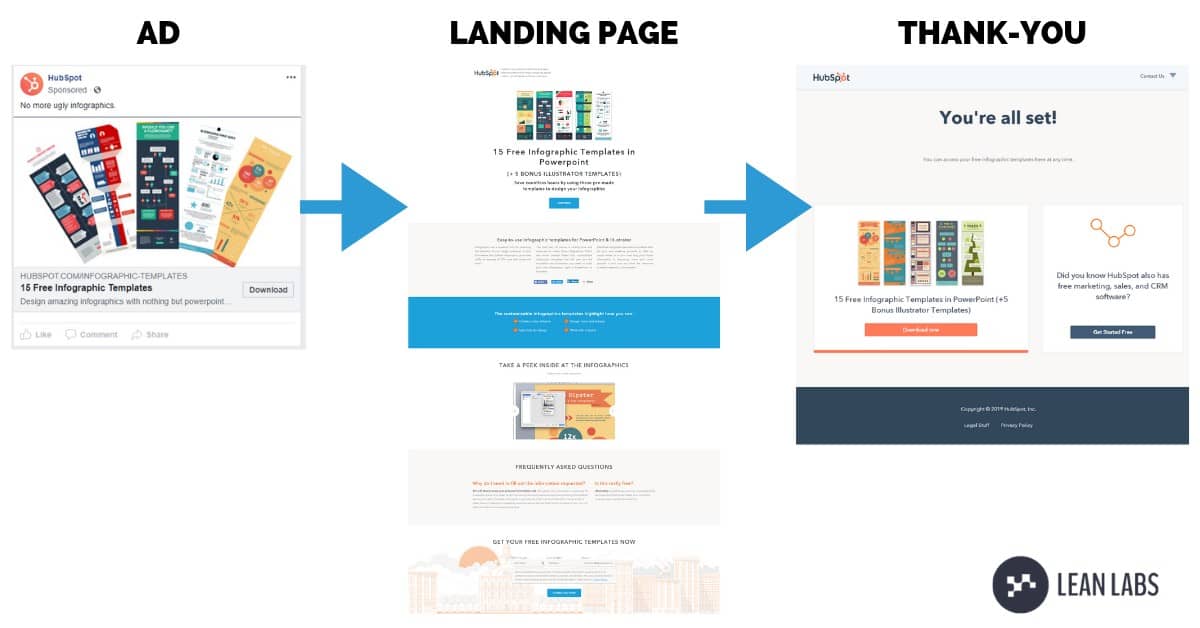 Let's say at your discretion, you have decided to start a goal of driving traffic to your website or a landing page.
With this goal, most of the time, the main idea is to direct a targeted audience to a particular website or landing page with the expectation of getting either their emails or contact info, selling a particular product or service, or downloading an app or intangible product.
With this type of goal, you need to make sure all the necessary web tools to record, capture and identify the behaviour of your target audience on your landing page or your website is implemented well.
Normally, behaviours like user movements, search keywords, clicks, pages visited, keyboard strokes, and taps are recorded with tools like Facebook Pixel, Google Analytics, Hotjar, Mouseflow, Fullstory, CrazyEgg, Lucky Orange, SmartEgg or Microsoft Clarify can be used.
You just need to use at least one or two of the above tools and learn from reviews of the tool that might suit your needs.
Most of the time, Google Analytics, Hotjar, and Facebook Pixel can be mixed to achieve the best of both worlds as a beginner.
The caveat here is to make sure you check the resources like memory and data usage of your website or landing page not to slow your page speed when using these tools.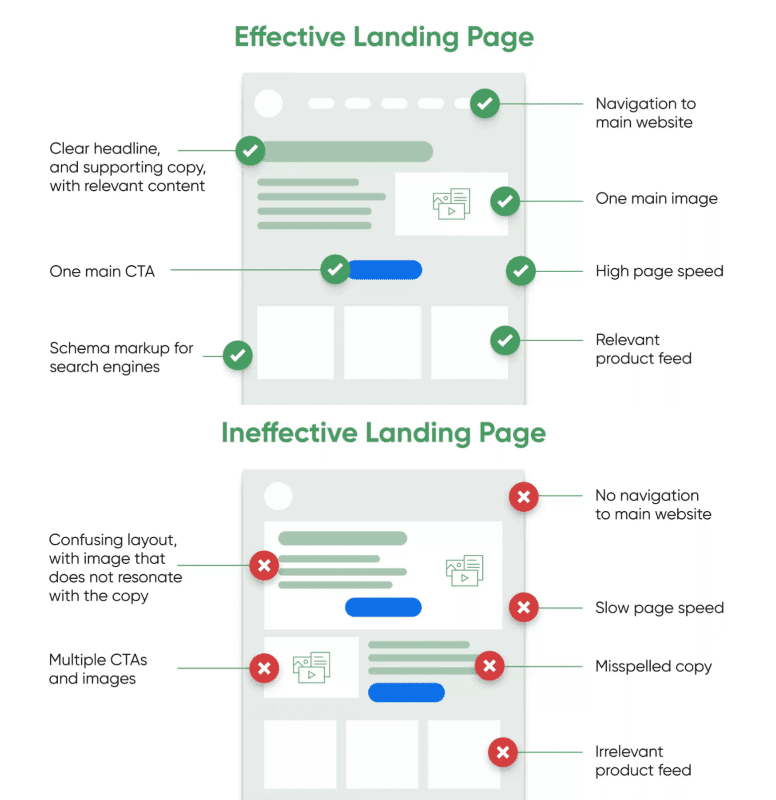 If page speed slows, you should use compression solutions to increase your server speed.
Any of the above tools might improve and increase your audience data gathering and make you decide on the right improvement skill to fine-tune your goal.
The most efficient way is to make sure you are specific about your goal and objective so you can improve and measure your success.
Let's take the following example, you have designed a website with a landing page to sell a particular service like Graphic Design.
You have defined your specific niche and in this case, you are selling the services of creating beautiful facebook cover pages and ad posters with a unique selling proposition (USP) of 24hrs design and completion time.
And let's say you have created a very attractive image banner that describes your ad message and USP into a simple click bait: Graphic Design Ad Posters that sells any product in 24hrs.
You used your ad banner for a Facebook Ad and you selected the goal of driving traffic to your website or landing page.
Then when the target of the goal is achieved or not achieved, you can use the data gathered to improve your ad and plan ahead with a new strategy to tackle the drawbacks and challenges.
You will use events happening your landing page and on the ads itself to arrive decisions which will be used to re-tune your ads and reworking on your landing page.
On the landing page, unexpected events like why high bouncerates on the page, why sudden spots are clicked more and other not.
A lot of variables play here and the advantage is to focus on the positive and eliminate and negative to improve performance and increase conversion.
This cycle will be repeated and repeated until your strategy becomes very efficient and flawless with incredible conversions.
Goal No.2: Increasing Brand Awareness Example:
When increasing brand awareness as a strategic goal, you must first define a target for the audience to reach. In brand awareness, you should make sure you improve or showcase your design, value, strategy, logo, marketing, advertising, identity and trust to your potential audience.
On Facebook, you can achieve this by defining the total number of audience reach within a specific time of your post or ad and boost the image of your brand using stories, messages and super rich contents.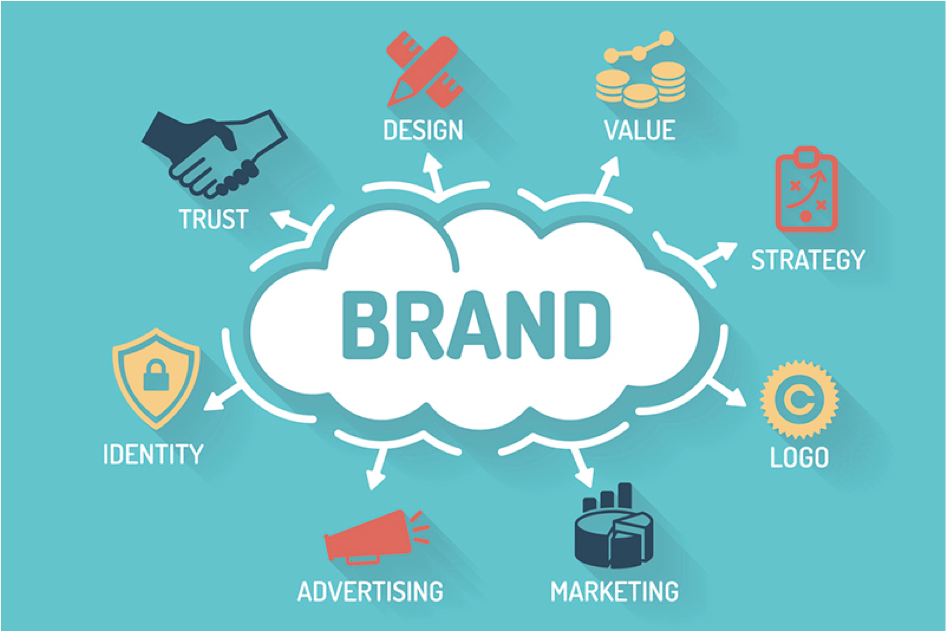 Let's say, you want to reach 100,000 people as a brand awareness goal. To measure brand awareness, the most effective way is through engagement targeting.
It is only when your audience interacts with your ad or post that you can select those that spent much time, made comments or even watched a specific video for a specific time length that you can use as a funnel for retargeting.
You target engagement on Facebook through mediums like articles, videos, or any content about your product or service for that type of brand awareness.
Facebook has built-in tools to check the total number of engagements on that particular post or ad so you can measure its effectiveness.
You can read more about how to increase brand awareness on Facebook here.
Goal No.3 Boosting sales of a particular product or service.
When boosting sales of a particular product or service, the most important thing to do is to set up the right tools on the landing page or ecommerce platform used to make the sale.
When it is a product oriented business, normally, tools like google analytics which measures goals of conversions of sales or facebook pixel which can also measure these goals like how much time they spent on your website help to improve conversion when you start retargeted ads.
The most important thing to do is to have an edge on these tools and effectively use them as an advantage. You should be aware of the individual identification of the ad funnel. In facebook you can identify these parts as
Awareness – Top of the Funnel (TOFU)
Consideration – Middle of the Funnel (MOFU)
Conversion/Decision – Bottom of the Funnel (BOFU)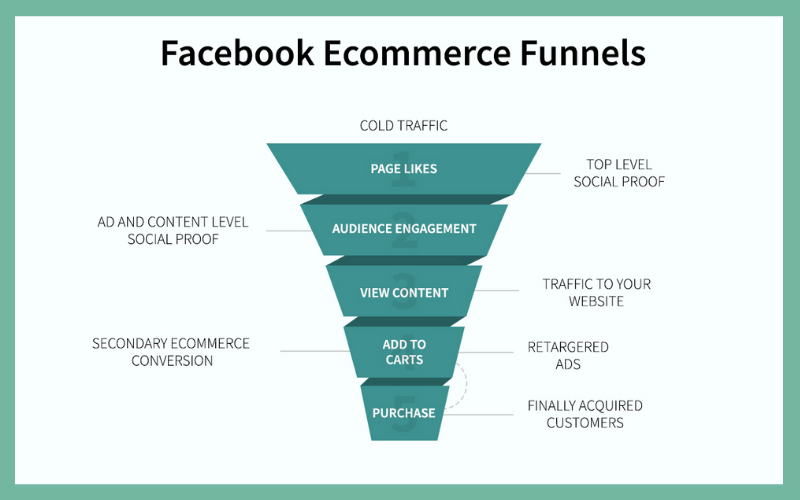 Let say, you use facebook pixel to measure conversions on your website. You can learn an in-depth process of how to use facebook pixel to measure website conversion here.
After implementing and identifying a particular thank-you page which opens after a successful purchase which is now recorded by the pixel if everything is set up correctly, you can now record all sales made to the audience.
Also improve your sales by creating retargeted ads, saved audience, lookalike audience or custom audience.
If you are not familiar with the facebook audience types, you can hire a digital marketing specialist or take your time to watch online videos as a guideline. You can also reach-out to our in-house team to help you out for a small fee.
To make it simpler, if you are totally at sea with these terms, just know that facebook lookalike audiences work effectively well when boosting product sales.
The simpler steps are to first start an ad boost of a particular product or service with a very well designed creative and a landing page to increase conversion.
Then facebook pixel records information about the audience who bought from your product or converted if it is a service.
When you achieve at least more than 100 of these sales. You can start a lookalike audience ad of these customers.
Facebook database uses artificial intelligence techniques to bring you similar audiences of your converted sales and brings you new sales of people who are looking for the same or similar products or service.
This technique is considered one of the most powerful ad strategies and is very cost effective.
2. Choose the Right Platform
After defining your goal from the above explanation, you should choose the right platform.
This is achieved by conducting research on finding the right audience who are related to your product or service you are creating the ad with.
Intuitively, you achieve this by finding similar pages, keywords and subjects that are attractive to the niche.
Example is: Let's say you are selling watches. You use the facebook audience finder tool to find people who might be interested in the brand or a specific topic around it.
You can achieve this by using the facebook audience finder and querying or filtering for specific area, location, age and certain targeted persona.
Once you have selected the number of audience in that field, you should be specific about the targeted number to reach which will be equivalent to your budget.
Note that the number of audience is always equivalent to the ad cost per click or view. The advice here is to start low and increase when your first 100 sales are made.
3. Determine What Type of Ad to Post
To determine the type of ad to post to reach your audience, you can use either a Video ad, Carousel ad, Collection Ad or Instance Experience Ad. Any of them are effective in their own field. We describe the steps on the Video Ad and the Carousel Ad for now.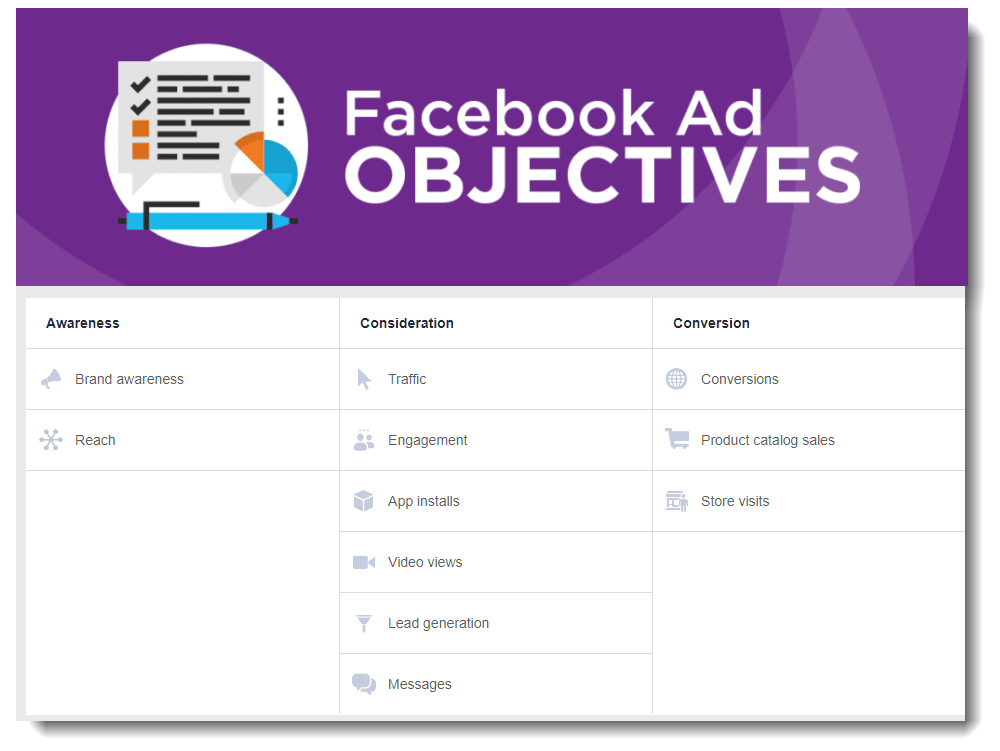 To be more effective, you have to make sure your design looks pleasing and attractive. You can use click bait techniques, but make sure the click bait is not misleading to prevent high bounce rate.
Let's take each of the above ad types and define them.
Facebook Video Ad:
Video is considered one of the most powerful attention grabbing mediums to use when it comes to facebook ads.
There are a number of strategies to use to make your videos more captivating and attract attention. You should always ensure that your videos are seen by the people who matter the most.
The following are some tips or guidelines on how to create a Facebook video ad that spans attention.
Make your video very short but interesting.
Mostly, people have short attention spans. It is very imperative to make sure your videos are very concise and straight on point.
You should always aim for videos that are 30 seconds or less. This might be a little bit difficult to achieve but can be achieved by focusing on a single key message and using editing skills to make it concrete.
Make sure your title is very captivating and grabs attention.
Your video title or headline is considered one of the most important elements to catch conversion or click. You must spend enough time and research to come out with the best related title of your video.
Some of the techniques in achieving this is by using styles like telling stories, using imaginations, making them laugh, implying actions or grabbing them with quotes or triggering their senses with click baits that are true but not misleading. Nowaday, bloggers often use sensationalism which works effectively.
Use Creative Visuals for your Video Cover
Humans are considered to be visual creatures. It shouldn't be a surprise videos with strong elements of visuals more likely grabs attention and converts than none. You should include compelling visuals and images or infographics or GIFs to speak your message.
Use Powerful Audio or Music Backgrounds
Un-disturbed musical backgrounds in videos grab attention and stimulate the brain for concentration. You should use music or sound that affects the captivation of attention.
Use Emotions in Your Videos
A pull of the camera or moving the physical position of the camera backwards or zooming out in a slow motion creates a feeling of tension and moves emotions.
You should capitalise on this technique while you tell your captivating story. You should also use your content to tell a story, leverage the fear of missing out (FOMO) and also create a feeling of belonging.
Then you have an idea of Promise to help your audience to achieve their goals all in the space of 30 seconds or less.
Emotional videos are more likely to be shared and watched again and again and that can create a viral effect for your campaign.
To really tap into the emotions of your audience when using video, you should create either humour, sadness and anger of your viewers to make your campaign impactful.
Facebook Carousel Ad: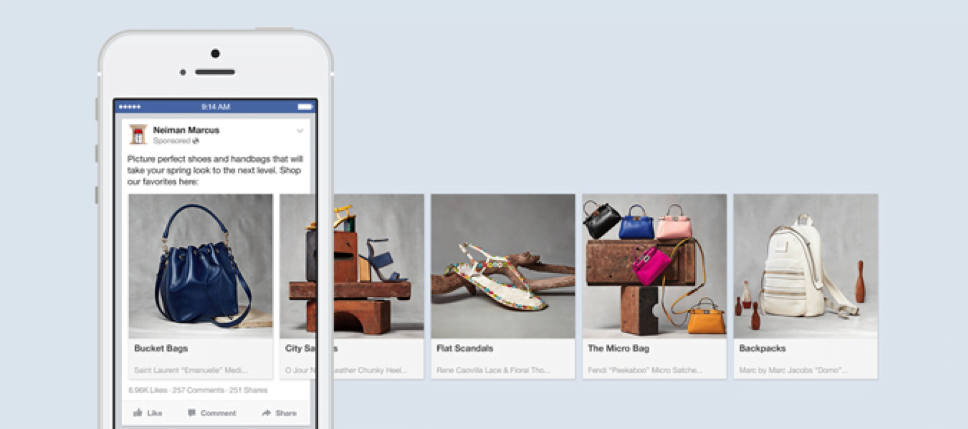 Facebook carousel ads are a perfect way to showcase multiple products or services in a single ad. This is a great way to pick some of your anticipated products or services to your potential customers. This ad can be very effective for e-commerce products or similar services in a single ad unit. The following are some tips on how to create a Facebook Carousel Ad that get attention and conversion:
You should use high-quality images: The images used in your carousel ad should be very high-quality and eye-catching. You should always avoid using low quality stock images. Premium images should be used.
Once again, always use attention-grabbing headlines: Your Facebook Carousel Ad should be short and cut straight to the point. You should select the best related images for people to always want to learn more from your products or services.
You should use description text: Your descriptive text should be very clear and concise. Describe what you are offering and why people should patronise that product. State what they will get from the products.
Use Call-to-action Objects: The call-to-action or (CTA) is very important for conversion because that is normally the only way to lead the audience to click or make action on your carousel ad. Make sure your (CTA) is clear and concise.
Use A&B Testing Options: Always make sure you create multiple ads of different variations of the ad images, headlines and descriptions to know the one that converts well before increasing budget.
4. Create a Content Calendar
Content Calendars simply make you organise your posts and device timelines to post them in the future. This is very efficient if you are a busy person.
Normally, in the case of creating this Facebook Ad Strategy, Content Calendars help to keep the engagement of retargeted audience abreast with your product or service.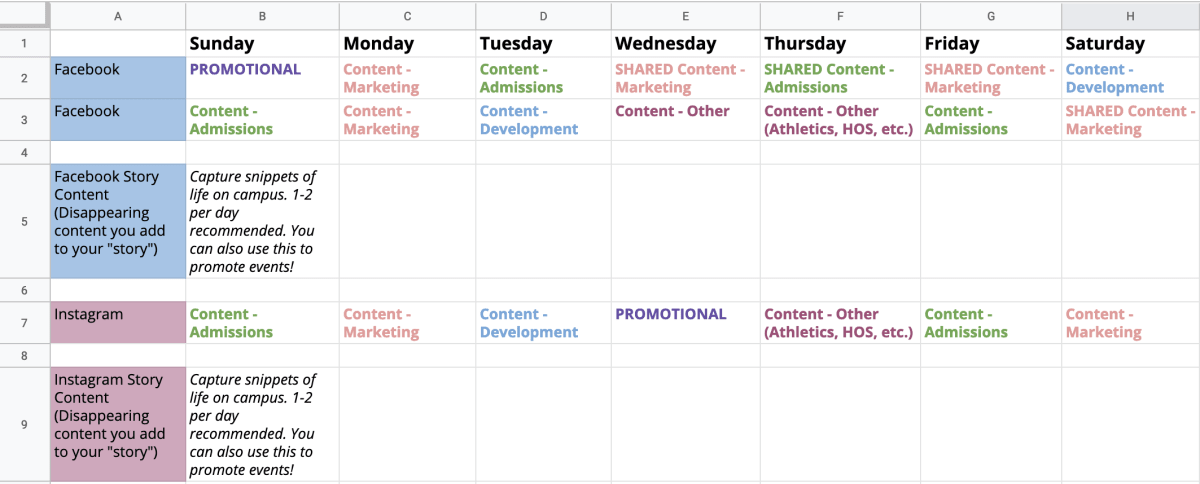 You normally use the content calendar and device future related posts about the same ad to educate them and also to keep them informed when you decide to award them with gifts, educational materials, infographics, coupons or promotions for more conversions.
You can plan in-between the ad cycle or the period you start your ad and retarget them with great information from a content calendar plan.
Once you know what type of content you want to post, it's time to start planning when to post it.
The following are a few guidelines to keep in mind when creating a Facebook Content Calendar:
Frequency: What's the frequency of your posts or How often do you want to post your content to keep them engaged? Devise a timeframe and pre-post your content to target these audiences so your work doesn't become tedious. A few times a week is normally okay.
Timing: What time of the day is very effective to post your content? Most of the time, this information is based on the niche you are targeting. A time to post content to movie fanatics might be different from contents targeted at B2B audiences. Just be intuitive about it or do the necessary research to find the right timing to post your content. You can also use facebook insights to see when your fans or audience become active and schedule accordingly.
Variety: Apart form an Ad to get in touch with potential customers, you should have a content plan to post scheduled contents. Make sure you mix up the types of contents you post to keep them engaged. You shouldn't be posting the same type of content. You should mix up videos, text contents, images, quotes and even use humour like funny information to always keep them engaged.
5. Measure Your Success
We started with setting up your goal. This is the part you measure your goal. You check the performance of your goal and make sure you meet the targets of your goal. It very important to measure your success if you are meeting your goal.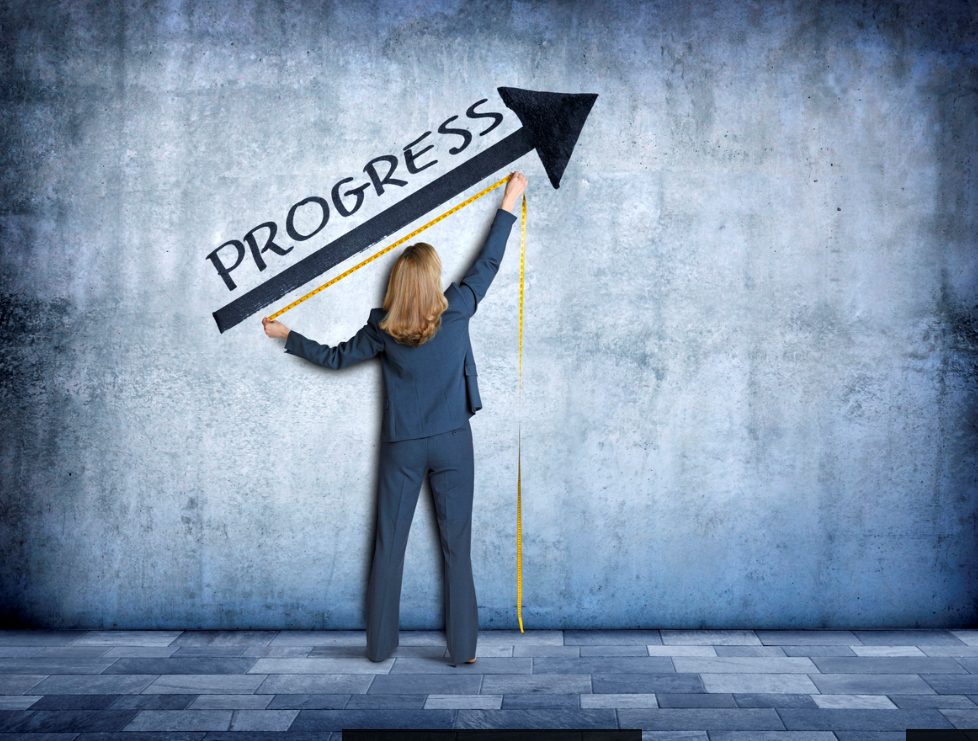 Facebook Insights is one of the great tool for measuring your performance. You can findout how many saw your posts or ad, their interactions, engagements, comments, conversions and time spent. These information is very useful to decide on your next strategy until it becomes a successful cycle.
Once you've been posting for a while, it's important to measure your success to see if you're meeting your goals.
Wrapping Up
A Facebook Strategic Ad Plan is a valuable tool for any business wanting to make profit or gain specific positive target using the facebook platform.
This article started by showing the importance of why you should create an Ad Strategic Plan, then listed hwo to create your goals and targets.
Then showed how to select optional goal types like Driving traffic to a website or landing page or app, or Increasing brand awareness, or boosting sales of a particular products or services.
After defining your goals, you must choose the right platform and device the right ad type like Facebook Video Ad, Carousel ad, Collection Ad or Instance Experience Ad.
After your ad start, you then you create a Content Calendar to continue to keep your followers and audience engaged with pre-defined articles with frequency, timing and variety of contents. Then you measure your success and gather information for the next cycle of success.