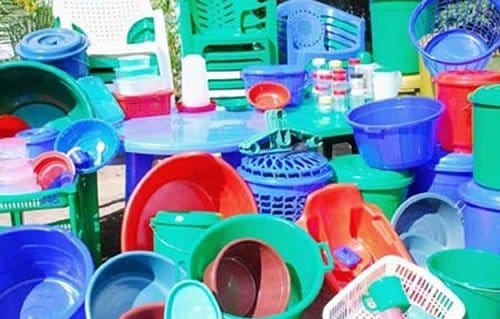 Top plastic bottles companies in Ghana.
There are many manufacturing plastic companies in Ghana that are core container manufacturers and wholesale distributors of plastics, chairs, tables and other plastic products. This post shows some of the top plastic companies from Accra, Tema, Kumasi with distributors and other industrial areas in Ghana.
Plastic products are manufactured from high-density plastics. Common uses for plastic bottles or plastic bottle containers are for storing liquids especially natural mineral water, soft drinks, motor oils, cooking oils, shampoo, ink, medicine, and milk.
If you are in the position of searching for some of the top and best plastic manufacturers and distributors in Ghana, then the following list should help you.
Duraplast Ghana Limited has been supplying high-quality unplasticized Polyvinyl Chloride (uPVC) and HDPE pipes and fittings to Ghana's water and electrical engineering markets for over 50 years.
They are equipped with cutting-edge industrial machinery that is top-of-the-line.
Duraplast Ghana uses cutting-edge technology to produce pipes that meet international requirements. Due to their high level of precision and demanding laboratory, the Ghana Requirements Board has approved them to meet industrial standards.

Pens and Plastics Ghana Ltd (BIC Pen Manufacturers)

Pens and Plastics Ghana Ltd are manufacturers and wholesale company based in Accra, Ghana. They manufacture all kinds of plastics and other rubber materials such as BIC Pen, school bags, shaving sticks, T-shirts and etc. Pens and Plastics are part of the group called CFAO. They are also automobiles and merchant wholesalers in vehicles.

Strong Plast Limited – Manufacturers of Gye Nyame Plastic Chairs

Strong Plast Limited is the sole manufacturers of Gye Nyame Plastic Chairs. They produce plastic chairs, tables, and crates. Their plastic tables range from small sizes, medium and large sizes. If you are looking for a strong, durable, and quality plastic chair for your business, then you should consider their product. They are also into wholesale distribution. They are located at the KIA Accra.

Danica Plastics Ltd

Danica Plastics is also another plastic manufacturing company in Ghana. They are located at Weija – Around Kasoa. Danica Plastics are distributed to wholesalers and individuals. They have been in the system for a long time and have risen to fame through credibility and reviews from customers.

J & J Plastics Ltd

J & J Plastics Ltd originated from Plastic Manufacturing Company. They produce ranges of plastic products. They also produce mineral water under the brand name Cool. They are located in Kotoku Junction, Medie around the Nsawam Road, Accra.

Charkieh Plastics and Packaging Gh Limited

Charkieh Plastics and Packaging Gh Limited are pioneer manufacturers of plastic buckets in all sizes. They also produce Mold, Dye and punches.

We believe in the preservation of the environment.Our team is dedicated to the promotion of bio degradable products.We do this by keeping our clients well informed of the new technologies available to produce bio degradable products and by giving them a competitive edge for these products in the market.

Comfort Plastic Ltd:

Comfort Plast Limited: Since our establishment in 1998, we have been offering our clients fine quality plastic chairs and tables that are designed with the aim of providing the highest level of comfort, superior design, with a variety of colours, at the modest economical prices.

We believe that these are the reasons why we have been successful in achieving high levels of repeated business.

Our Products:

Our plastic products are specially customized to ensure high durable quality, resistance, endurance and to be suitable for indoor and outdoor use.
MORE:
Article: The State of Plastic and Waste Management and Recycling in Ghana
Ghana, which is a west african country and is popularly known for its rich culture in cocoa, manganese, gold and also rubber. Rubber has been used for the manufacturing of plastic materials. For the past decade and beyond, Ghana has been facing challenges in the management of solid waste, which also includes plastic waste.
Plastic pollution has really become a major environmental concern in Ghana and other west african countries. The use of plastic products like plastic packaging has grown significantly and this has resulted in ocean pollution and plastic pollution.
Coliba Ghana, which is one of the top plastic companies in Ghana is a manufacturing company that produces plastic products like waste bins, bottles, septic tanks and poly tanks. The company is located around the North Industrial Area of Accra, which is the capital. The reputation for high-quality plastic products is claimed by Coliba Ghana, PolyTank Ghana, Sintex Container and even the Coca Cola company at the spintex of Accra.
These plastic companies normally export to other countries in West Africa including the Ivory Coast and South Africa.
Sintex Container is also a leading provider of recycling services and plastic pipe systems. Located in the North Industrial Area of Accra Kaneshie, Sintex Ghana is known for their commitment to sustainability by focusing on recycling and the use of recycled plastic materials.
Apart from Coliba Ghana, and Sintex Ghana, the Coca Cola Company of Ghana is also a major player in the plastic industry. The Coca Coloa Ghana company has been in Ghana for over 50 years and is known for its efforts to reduce plastic pollution through social responsibility programs to reduce plastic pollution through initiatives like the PlantBottle which is made from recycled plastic and can be recycled again after use.
Ghana's plastic industry has a significant impact on the country's economy with many companies exporting plastic products to other countries in Africa and beyond. However, the increasing amount of plastic waste in Ghana has led to the challenges in waste management and the disposal. With communities struggling to properly dispose of these waste.
By addressing these problems, some plastic companies and organizations in Ghana have worked and are still working to promote plastic recycling and the use of alternative packaging materials like paper bags. These efforts are very essential and are not only for the environment but also for the economy of Ghana. By adopting these circular economic principles, it will help to create jobs and also to support the growth of the plastic industry in the long term.
North Industrial Area Plastic Companies:

V5 Plastic Ltd

, Plastic fabrication company Shed No. 4, Plot, 55 Abotia St · 030 222 6294

ComfortPlast

: Plastic fabrication company, Kaneshiro north industrial area, 8, Dadeban Rd · 030 222 8945 Opens 8AM Mon -Fri

Universal Plastic Ltd

: Plastic fabrication company 9 Dadeban Rd · 030 222 8105
Plastics and Waste Frequently Asked Questions