Best MIS Web Login Ghana – University of Ghana No.1 Students Portal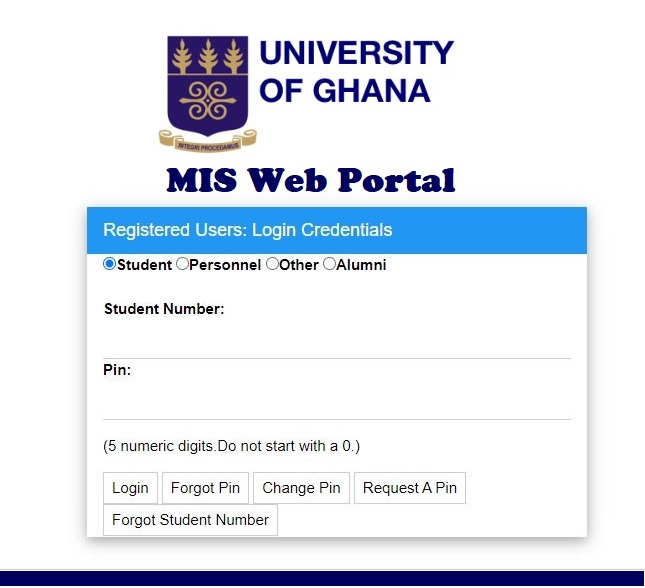 MIS WEB LOGIN: In today's digital age, universities around the world are leveraging technology to enhance the learning experience and streamline administrative processes for students. The University of Ghana is no exception, providing its students with a robust and user-friendly online self-administration platform known as the MIS Web. The University's Management Information System (MIS) Web offers a important features and tools that empower students to take charge of their academic journey and connect seamlessly with the university's resources.
The University of Ghana MIS Web – A Comprehensive Overview
This web platform of the University of Ghana is an intuitive platform designed to facilitate students' access to essential academic services and administrative functionalities. As a secure and user-friendly platform, it serves as a one-stop destination for various aspects of a student's academic life. From registering courses to monitoring academic performance and even making residential applications, the platform simplifies and streamlines essential tasks for students.
Procedure for Accessing the MIS Web
Open the UG website, www.ug.edu.gh, with your browser.
Click on Staff (or Student) and select the platform to access the MIS page.
Choose your status (Personnel or Student) by clicking on the appropriate radio button.
Provide your personnel or student number and PIN. You can also click on the Forgotten Pin button, and your PIN will be sent to your UG assigned email address.
Click on the login button.
First Time Log In:
You will be directed to another screen where a temporary password will be sent to your official UG assigned email address.
Retrieve your temporary password from your email and key it in the Temporary Password field shown above.
Create and key in your new password, which should be a combination of upper case letters, lower case letters, special characters, and numbers. The chosen password must be at least eight (8) characters long and should be different from any previous passwords you have used for the platform.
Click on the login button to log into the platform home screen.
Note: If you cannot access the temporary password, click on the Forgot Password button, and a new temporary password will be sent to your email address.
Subsequent Logins:
Follow steps 1 – 5 above.
Enter the password you created earlier in the Password field.
Click on the Login button to log into the account home screen.
Note: If you have forgotten your password, click on the Forgot Password button, and a new password will be sent to your email address. You may also change your password by clicking on the Change Password button.
REMEMBER:
NEVER GIVE YOUR PASSWORD OR PIN TO ANYONE.
ALL EMAIL COMMUNICATION IS THROUGH YOUR UG ASSIGNED EMAIL ADDRESS.
Key Features and Benefits
Academic Excellence:
The platform serves as a digital learning environment, enabling students to connect with their teachers and classmates effectively. By integrating favorite Microsoft apps, such as OneDrive and Microsoft 365, students can create, share, and collaborate on projects effortlessly. With access to an extensive library of educational resources, students can develop their knowledge and skills essential for success.
Secure and Reliable:
The web platform is designed with physical safety features, ensuring students' memories stay safe and their files are securely stored. The cloud storage offers 5 GB of free space for students to safely store their files, with an option to upgrade to a premium 1 TB storage plan if needed.
Easy Organization
With intuitive organizational tools, students can organize their worksheets, assignments, and other learning materials efficiently. The platform's seamless collaboration features facilitate group projects, enabling students to work together from anywhere around the globe.
Automated Processes: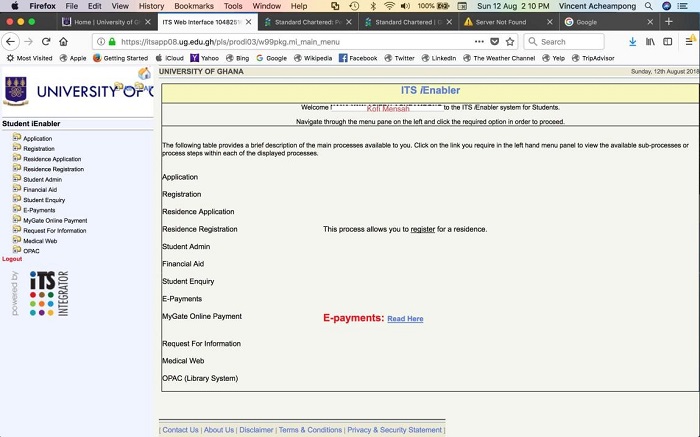 The web platform also streamlines administrative tasks, reducing manual intervention and paperwork. This automated process saves time for both students and the university staff, ensuring a smooth experience during re-opening and vacationing times when the platform is busiest.
Learning Anywhere, Anytime:
One of the most significant advantages of the platform is the flexibility it provides. Students can access the platform remotely, allowing them to continue their classroom activities from home or any other location with an internet connection.
How to Access the MIS Web
To access the platform, students need to log in using their unique credentials provided by the university. The web portal is easy to navigate, and students can quickly gain access to the different features available on the platform. The platform is supported and maintained by the skilled computer experts at the Information and Communication Technology Directorate (ICTD) of the University of Ghana.
Summary
The University of Ghana MIS Web stands as a testament to the institution's commitment to providing students with cutting-edge tools and resources to enhance their academic experience. With its intuitive platform, secure cloud storage, and collaboration features, the platform empowers students to take charge of their learning and connect seamlessly with their peers and teachers. In this digital era, the University of Ghana remains at the forefront of providing its students with the best tools for success and growth.
Related Keywords: login ug, login gimpa, login ug sakai, student login results, webmail login, mis login online, mtis global login, how to login mis portal.
Frequently Asked Questions (FAQ) – Accessing the MISPortal at the University of Ghana
How do I check my MIS Web results?

To check your examination results on the MIS Portal, follow these steps:

On your mobile phone or PC, log in to the platform using your Student ID and Pin.
Using Chrome or any browser that is easy to give you access to your Mis Web.
Tap the three horizontal lines located at the top right corner of the Mis Homepage.
What grade is a resit in Legon?

The Supplementary re-sit examination is opened to ONLY students who have failed (grade E or F) previously registered course(s).
How do I find my UG pin and serial number?

To retrieve your UG pin and serial number, follow these steps:

Dial *887*9# on your mobile phone.
Select "Yes."
Select "Retrieve E-Voucher."

The details of the E-Voucher are displayed (i.e., University of Ghana, Serial Number, and PIN).
How much is a resit in Legon?

Resit Registration

HUMANITIES
1 credit hour: GH¢ 43.00
2 credit hours: GH¢ 86.00
3 credit hours: GH¢ 129.00
How can I get my UG admission letter?

All admitted students are required to log in to the link on the University's website http://www.ug.edu.gh with their admission Serial Number and Pin to download their Provisional Admission Letter.
How do I activate my UG account?

Activating your UGMail is simple:

Click here to login to your UGMail Login Page.
Log in to UGMail using your email address (stated in your admission letter) and your default password.
Follow the instructions to change your default password.
What is the short code for University forms?

Use the short code *887*9# to buy a form on all mobile networks in Ghana.
Glossary
Charge Quickly Design: A design feature that allows the platform to load and respond quickly to user actions.
Memories Stay Safe: Ensuring that user data and information are securely stored and preserved.
Physical Safety Features: Security measures in place to protect the physical infrastructure of the platform.
Family Safety App: An application that promotes safety and security for families using the platform.
Students Develop Knowledge: Empowering students to enhance their knowledge and skills through various learning resources.
Favorite Microsoft Apps: Microsoft applications that are highly preferred and frequently used by users on the platform.
Safely Store Files: Providing a secure storage system for users to keep their files and data.
Easy Organizational Tools: User-friendly tools that aid in the efficient organization of academic materials and resources.
Intuitive Platform for Teachers: A user-friendly and easy-to-use platform designed to cater to the needs of teachers and educators.
Favorite Apps: Most preferred and frequently used applications on the platform.
Family Protect: Ensuring the safety and security of family members and users within the platform.
Microsoft 365 Brings: The integration of Microsoft 365 services and features into the MIS Web platform.
Create Share: The ability to create and share content and resources with other users on the platform.
Business Connected: Establishing connections and collaborations between businesses and users on the platform.
Learning Anywherein: Enabling users to access learning materials and resources from any location.
Learning Environmentwhether: Providing a conducive learning environment, regardless of external factors.
Skills Essential: Important skills that are necessary for success and growth on the web platform.
Students Connect: Encouraging students to connect and collaborate with peers and teachers on the platform.
Automated Process: Streamlining administrative tasks and processes using automation to save time and effort.
Create Files: The ability to generate and save files on the web platform.
Classroom Remotely: The capability to participate in classroom activities and sessions from a remote location.
Classroom Remote: Enabling users to control and manage classroom activities remotely.
Cloud Storage: Storing data and files in a cloud-based storage system, accessible from anywhere with an internet connection.
Web Free: Providing free access to the web platform via the internet.
Seamlessly Collaborate: Enabling users to work together and cooperate without any disruptions or difficulties.
Microsoft 365: Microsoft's suite of productivity tools and services integrated into the web platform.
Intuitive: User-friendly and easy to navigate.
Students: Individuals who are enrolled in courses and programs at the University of Ghana.
Files: Digital documents and resources stored on the platform.
Tools: Features and functionalities available on the web platform.